Race type - Flat
Wolverhampton

Wolverhampton
Track overview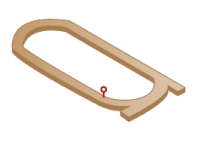 GUIDE -
For Racecourse
Left-handed Polytrack, oval circuit of 1m with separate chute for 5f and 6f races.
Wolverhampton started life as a turf track, both flat and jumps, but an ownership change dictated a switch to an all-weather surface in 1993 with Fibresand chosen. This was ripped up in 2004 and replaced by Polytrack and the general consensus is that it now rides fairer and more consistent. It was the first of the all-weather tracks to be floodlit and many meetings now take place under the lights - their Saturday evening meetings are particularly popular with punters who then can sample the delights of the local curry houses! During the week, it can be an empty soleless place but to its credit it does keep the 'show on the road' in the bleakest of winters.
Draw Bias
A low draw is a big advantage in the 5f races, while low to middle is preferable over 7f. Beyond that it doesn't seem to matter, although it's never a good idea to race wide on the home bend as you lose valuable ground and rarely seem to make it up. That said, there has been considerably more 'kickback' of late and those horses going wide do miss the worse of it, thus gaining a slight advantage.
Principal Races
The prize money is often bargain basement but the Lincoln Trial Handicap, run here in March, has a valuable purse (£18k in 2011), as does the Listed Wulfruna Stakes at the same meeting - both races were sponsored by William Hill in 2011. At one of the December meetings, there is a £10k added handicap and Mia's Boy landed the spoils for trainer Chris Dwyer in 2011.

Course Characteristics
The track is an oval measuring around 1m in circumference and that makes it very sharp in nature. On the round course, horses are on the turn virtually as soon as they leave the gates and those runners who like to race handy have a distinct advantage. Get off to a slow start and it can be very hard to make up ground here. Clearly, this is not a place for the long-striding, galloping types, although they can still be competitive if those in front go off to fast, playing into the hands of those staying on.
Top Trainers
Mark Johnston has been banging out the winners here for many seasons now and considering the number of horses he runs, his strike rate of 23% (last five seasons) is more than respectable. David Evans has trained plenty of winners too but don't follow him blind as he trains plenty of losers too - 73 winners from 708 runners, producing a level stakes loss of over £200! It's a similar story with Mark Brisbourne and Kevin Ryan, although the latter's strike rate has improved markedly of late and you would have made a profit of £26 backing all his runners in 2011.
Top Jockeys
Jimmy Quinn made his living here and it was sad to see him found guilty of race-fixing in December 2011. With him now out of the game, there should be more opportunities for the likes of Graham Gibbons - 76% winners in the last seasons for a 13% strike rate - and Chris Catlin (71 / 10%). Adam Kirby makes the most of his opportunities, as does champion Paul Hanagan, whose 25 winners here in the 2011 season helped him secure the title. We can expect more of the same in 2012.