Race type - Flat
Windsor

Windsor
Course details
Windsor's eccentric figure-of-eight track lies alongside the River Thames and can be reached by an enjoyable boat trip from the town centre.
Track overview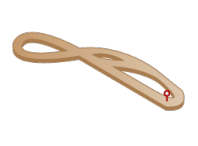 GUIDE -
For Racecourse
Figure-of-eight circuit of about 1m4f:
Windsor's eccentric figure-of-eight track lies alongside the River Thames and can be reached by an enjoyable boat trip from the town centre. This mode of travel has been going on for centuries with the first recorded meeting in the area dating back to Tudor times, although the current site is more modern having opened its doors for business in 1866. Unlike many tracks in the country, Windsor stayed open during both the World Wars in an effort to preserve the morale of Londoners, who still flock here today for the regular Monday evening meetings between May and August. This results in a great atmosphere and with the town of Windsor offering a wide range of pubs and restaurants, this is a track worth visiting at least once.
Track / Draw Bias:
There used to be a distinct bias in favour of high numbers but selective watering in recent years has made this far less noticeable. Much depends on the going now and high numbers still enjoy an edge in fast ground sprints and also over 1m67yds, and the more prominent racers can exploit this fully. On ground that is officially 'good to soft', the runners tend to race centre to far side and there is very little bias. On very soft ground, though, runners make a beeline for the far rail , which is perceived as being faster, and this hands the advantage to horses drawn on that side (low numbers).
Principal Races:
The course's only Group race, the Group 3 Winter Hill Stakes, takes place over a mile in August and while a single-figure field is the norm, it does attract some decent sorts, with the likes of Distant Memories and Campanologist winning in recent years. Market leaders have a fair record. There are also four Listed contests staged throughout the season, including the Midsummer Stakes, won by Nationalism in 2011, and the standard of racing here is generally quite high.

Course Characteristics:
Strictly speaking, the full figure-of-eight track is no longer used since the abandonment of National Hunt racing, with the bottom bend now serving only as a pulling-up area at the end of races. It's still pretty unique, though, with runners in the longer races having to travel both left and right-handed around relatively easy turns. The sprinters take a more direct line with 5f and 6f races starting on the spur at the end of the home straight. After leaving the gates, the runners immediately encounter the only dip on what is generally a flat course, before hitting level ground again all the way to the finishing line. Some horses love the track's unique configuration more than others and become course specialists, so it pays to give a close look to those horses with the letter 'C' (course winner) next to their name. Stamina is less of an issue here and it generally pays to concentrate on the speedier more agile type of horse.
Top Trainers:
Richard Hannon is head and shoulders above his fellow trainers in terms of sheer winners here, having sent out an incredible 76 in the past five seasons at a respectable strike rate of 16%. There's no reason for that not to continue in 2012, which may well be his last season before handing over to his son. Of the Newmarket trainers that patronise the course, it's Sir Michael Stoute who emerges with the most winners (19 / 22%) and after a quiet 2011 by his standards, he could well bounce back this season. If you're looking for a smaller trainer to follow, then David Evans, whose base is near Abergavveny in Wales, is your man.
Top Jockeys:
The success of Hannon is mirrored by his stable jockey Richard Hughes and it's no surprise to learn that he's ridden a staggering 53 winners since 2007. His strike rate of 20% is excellent considering the racing is so competitive here. Ryan Moore, the retained rider for Sir Michael Stoute's retained rider, is in clear second place with 52 winners, with a gap back to Jim Crowley, Jimmy Fortune and Steve Drowne, all of whom should continue to pay their way.