Race type - Mixed
Warwick

Warwick
Course details
Like a phoenix rising from the flames, Warwick was built in the early part of the eighteenth century to attract wealthy investors to the area after a fire destroyed the nearby town.
The flat course is completely separate to the National Hunt course (which is located inside) and is a left-handed oval measuring 1m6f in circumference.
Track overview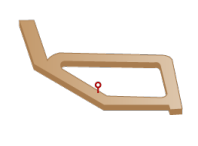 GUIDE -
For Racecourse
Left-handed, triangular circuit of 1m6f, three spurs.
Visitors to Warwick get a real sense of history as the course is located close to the ramparts of Warwick Castle, which was built by William The Conqueror in 1068 and served as the symbol of power for the Earl of Warwick. The racing itself can be traced back to the early seventeenth century, making it one of the oldest courses in Britain. Sadly, the Earl is no longer resident and the castle taken over by the Tussauds Group, but there's still a real old-world look about the place as many of the buildings, including the main grandstand, which was refurbished at a cost of £3m in 2000, were restored rather than built from scratch, ensuring it's not out of character with the medieval town, which it's slap bang in the middle of. It's a busy dual purpose venue with its 11 flat meetings held between April and October.
Track / Draw Bias:
With the runners on the round course tending to stick to the far (inside) rail, those horses drawn closest to that rail (low) can enjoy an advantage, although selective watering in recent years has made this far less pronounced, and the finishes these days tend to take place up the centre of the track. On soft and heavy ground, in particular, it can even be an advantage to be drawn high away from the inside rail as you tend to avoid congestion turning in.
Principal Races:
The racecourse management do their best to attract racegoers with a series of themed meetings, including the ever popular 'Ladies Day' in July and 'Alternative Ascot' (during Royal Ascot week, of course), but the racing in general here tends to be a mix of maidens and low-grade handicaps. The exceptions are the two Listed contests staged at the midsummer June meeting; the Eternal Stakes (over £30k prize money in 2012) and Warwickshire Oaks.

Course Characteristics:
The flat course is completely separate to the National Hunt course (which is located inside) and is a left-handed oval measuring 1m6f in circumference. It is slightly undulating throughout but it's main characteristics are the sharp turns, which can throw some horses off balance, and the short run-in to the finishing line. It therefore pays not to hang around and horses that like to front run or race prominently win more races here than they are entitled to. Certainly, the short run-in gives jockeys little time to mount a challenge and as a result you don't see many horses coming from a long way back to win. A fast start and a good draw are essential in races of up to 6f as these start on a chute at the end of the home straight, and there is a severe dog-leg as the runners straighten up for home. In all races, speed is more important than stamina.
Top Trainers
It's difficult to pick out one or two trainers as the races tend to be shared out, but you would have made a small level stakes profit backing all of Mark Johnston's 56 runners, with 10 (18%) passing the post in front. Richard Hannon trains more winners than anyone else full stop and he has a decent record here, with 11 of his 78 runners (14%) obliging. Sir Henry Cecil runs his more modest animals at the track and punters should take note when he does as he boasts a strike rate of 42%. Andrew Balding has trained nine winners at a strike rate of 20%, so his runners are always worth a second look, as is anything trained by Ralph Beckett, who had four winners from 14 runners in 2011.
Top Jockeys:
Cecil's stable jockey Tom Queally leads the way with 15 winners since 2007, with nearly half of those coming in the 2011 season. With the stable going from strength to strength, he should continue to be profitable to follow. Chris Catlin, Eddie Ahern and David Probert, who rides the majority of the Balding runners, also make the most of their opportunities here and can be followed when on the right horses. Seasoned jockey Stevie Donohoe does not have a good strike rate generally but has the knack of popping up on a big-priced winner here.