Race type - Mixed
Newcastle
Newcastle
Course details
Known as 'Gosforth Park' to the locals, Newcastle is undoubtedly one of Britain's premier courses and can trace its history back to the early 17th century - the last timed I backed a winner! Racing under both codes, it owes much of its status to Sir Stanley Clarke, the chairman of Northern Racing who 'rescued' it in the 90s.
Track overview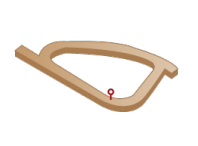 GUIDE -
For Racecourse
Left-handed, mixed, oval circuit of 1m6f, spur for straight mile.
Newcastle is steeped in history with racing in the area dating from as early as the 16th century, although it didn't get its first proper home until 1833, when Newcastle Town Moor was chosen as the venue for the Northumberland Plate, or Pitman's Derby as it was known by the locals. The racing proved highly popular and due to lack of development potential, it was decided to move to a new state-of-the-art venue (for the time) at Gosforth Park in 1882. In 1994, after years of general neglect, the course was acquired by the entrepreneur Sir Stanley Clarke and he invested heavily in updating the facilities, thus helping to make Newcastle the modern racecourse it is today.
Track / Draw Bias
It's normally the case of high numbers being best in races up to and including 7f on ground that is officially good or firmer, while low numbers are favoured when the ground is on the soft side of good. However, there is an important variable, that being the positioning of the stands' rail. If the course is at it's widest, high numbers are almost certainly better off, while things are less clear cut if the rail has been moved to further in. The official site should provide information on this and you can also glean much from races run earlier on the card.
Principal Races
The Northumberland Plate over 2m is the richest race at the track by far with the 2011 version carrying prize money in excess of £90k. It's one of Britain's Heritage Handicaps, taking place in late June, and is always fiercely competitive. It used to be run on a Wednesday and the meeting was a holiday for local mine workers, thus earning it the tag of 'Pitman's Derby'. Like the majority of big races these days, it is now staged on a Saturday, with the track's only group race, the Group 3 Chipchase Stakes, one of the accompanying races.
Course Characteristics
The racing circuit consists of a straight mile course with a left-handed loop attached to form a round course. There is a further spur on the round course for races over 1m2f. Measuring over 1m6f in circumference, it is much longer than your average racecourse and that combined with the easy bends gives horses plenty of time to stretch out and get into a rhythm, making it best suited to the bigger, more galloping types. With the last 4f being uphill, stamina is an important asset too and this is especially so when the ground is testing.
Top Trainers
Richard Fahey is a prolific northern-based trainer and Newcastle is definitely one of his favourite tracks, having sent out 30 winners and counting in the past five seasons, albeit at a fairly modest strike rate of 16%. Michael Dods is based in nearby County Durham and he knows how to get one ready for here (22 winners / 13%), as does the Middleham-based Mark Johnston (20 / 17%). Brian Ellison and Kevin Ryan are good for four or five winners every season and, more recently, the Newmarket-based John Gosden has made this a happy hunting ground with five of his 15 runners passing the post in front in the 2011 season.
Top Jockeys
Fahey's jockeys can rely upon plenty of ammunition and his main man Paul Hanagan leads the way with 37 winners since 2007. With him now based in the south due to a retainer with Sheikh Hamdan, there will be more opportunities for the likes of Tony Hamilton, who is still sitting pretty on 20 winners, seven of which came in the 2011 season. Tom Eaves, P J McDonald and Phillip Makin ride plenty of winners here too but their poor strike rates make them unprofitable to follow blind.