Race type - Mixed
Chepstow

Chepstow
Course details
Chepstow is Wales' premier racecourse - just don't tell that to Dai Walters, the owner of nearby Ffos Las! Situated in the picturesque Wye Valley between Bristol and Cardiff, it provides a stunning setting for some top class National Hunt racing and it's close proximity to the Severn Bridge allows for easy accessibility for not only racegoers but also the big stables situated in the West Country.
Track overview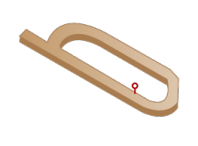 GUIDE -
For Racecourse
Left-handed, mixed, oval circuit of about 2m, spur provides straight mile
Chepstow is better known as a jumps venue but it's busy during the summer too with flat racing taking place from May through to September. It's a relatively new course having opened its doors in 1926, when crowds of over 20,000 were the norm, but it's reliability on local mining folk meant it suffered badly in the Great Depression, which struck in the decade prior to World War II. Many other local courses went under but Chepstow somehow survived and racegoers at a two-day meeting in 1933 were witness to the record-breaking feat of Sir Gordon Richards riding eleven successive winners. That record stands to this day and is unlikely to be broken in these more competitive times.
Track / Draw Bias
The once massive advantage afforded to high drawn horses in races on the straight course has largely been eradicated thanks to some extensive turf management and selective watering, and biases have become much harder to predict in recent times.
Principal Races
The Golden Daffodil Stakes was Wales' only Group race but it was blighted by small fields and was last run here in 2005, leaving a race programme consisting mainly of low-grade handicaps and maidens. However, the course management still manages to pull in the crowds with several themed race days / evenings including 'Ladies Evening', 'Caribbean Night' and the 'Mad Hatter's Tea Party' - they must be barking in South Wales!

Course Characteristics
The main flat circuit is a flattened oval measuring nearly two miles in circumference. Most races, though, take place on the straight mile course which is created by the addition of a 4f chute to the end of home straight. Both the round and straight courses are amongst the most undulating in the country and horses are either travelling downhill or uphill. That doesn't suit every type of horse and the big galloping types in particular can become unbalanced. Previous course winners are always worth following and confirmed front runners are always worth a second look as their riders, providing they are tactically astute enough, can dictate the pace from the off.
Top Trainers
The trip across the Severn Bridge allied with poor prize money causes many of the big Newmarket stables to shun Chepstow, and that leaves the way clear for the smaller trainers to mop up the bread-and-butter stuff. No one trainer dominates but the prolific winning Richard Hannon is always to be respected with his 15 winners over the past five seasons bettered by no-one. Coming up on the rails, though, is Andrew Balding, who took the track by storm in 2011 with seven of his 21 runners (33%) obliging. The quality of his string is improving all the time and he's reported to have some nice two-year-olds to run in 2012, so you can expect many more to follow. Also worthy of a mention is Ralph Becket who continues to find the net here on a regular basis here, along with a couple of local trainers in Bernard Llewellyn and Malcolm Sanders.
Top Jockeys
With the big-names normally in action elsewhere, this allows the less well-known jockeys to get on the scoresheet and none ride the track better than David Probert, whose 9 winners in 2011 came from just 36 runners (25%). He rides the majority of those runners trained by Andrew Balding and the pair should continue to be profitable to follow. Cathy Gannon, one of the best lady jockeys around, returned to the winner's enclosure seven times in 2011 and backers of all her rides would have made a tasty level stakes profit. Former top apprentice Martin Lane is rapidly making a name for himself at the Welsh venue (6 winners / 27% in 2011) and he looks destined for plenty more wins in 2012, which is a comment that also applies to Tom McLaughlin.