Race type - Flat
Ayr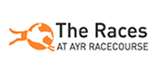 Ayr
Track overview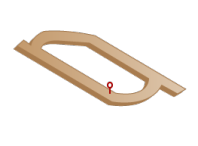 GUIDE -
For Racecourse
Left-handed, flattened oval circuit of 1m4f, separate spur for straight 5f and 6f races.
Ayr is widely regarded as Scotland's premier racing venue and the Gold Cup Festival, which is staged here every September, is the undoubted highlight of the country's flat racing calendar with some excellent prize money on offer. The first recorded race meeting in the area took place in 1777 on a patch of land now referred to as The Old Racecourse Playing Fields, which can still be visited today, with the inaugural Gold Cup being run in 1804. Racing thrived under the auspices of the Western Club, a group of local businessmen and racing fanatics, who took the decision to move to the current site in 1904 to accommodate burgeoning crowds. Known affectionately as 'The Craigie' by locals, the course is still well-patronised to this day and while it may not be the prettiest venue in Scotland, the racing rarely disappoints.
Track / Draw Bias
High numbers used to convey a significant advantage in big fields, like the Gold and Silver Cups, but things have become less clear-cut in recent years, and there is probably very little between the two sides now. The best advice is to check the results of races at the previous meeting or even earlier on the same card, as this often highlights a bias one way or another. The more shrewder punters will hold fire with their bets for the Gold Cup until the Silver Cup, which is run over course and distance earlier in the afternoon, is known, even if that means they have to accept a shorter price on their original selection.
Principal Races
The Ayr Gold Cup may be just a handicap but it's one of the richest to be run in Europe and is always hotly-contested by a maximum field of 27 runners. Bookmakers love it as favourites have a terrible record, with the last one to oblige being Coastal Bluff in 2006. Runners who get balloted out of the Gold Cup are able to run in the Silver Cup and there is even a Bronze Cup. All three races are run at the 'Western Meeting' which takes place every September, when the track also stages its only Group race, the Group 3 Firth of Clyde Stakes for two-year-old fillies over a distance of 6f. The Land O'Burns Fillies' Stakes and Doonside Cup Stakes carry Listed status and had prize money of just over £22k in 2011.

Course Characteristics
There's nothing too remarkable about Ayr as it's your standard flattened oval design with relatively easy turns and very gentle undulations. It's most striking feature therefore is the wideness of the track and that allows horses plenty of room to manoeuvre and explains why they can accommodate big fields on the straight course. No one type of horse is favoured as it's fair all-round and horse can win from the front or come from behind.
Top Trainers
Richard Fahey trains most of his winners on the northern circuit and Ayr is definitely one of his favourite places, with his 48 winners since 2007 coming at a good strike rate of 18%. Jim Goldie, who trains near Glasgow, is not far behind on 41 but his poor strike rate of 10% tells you he trains plenty of losers too. One race he'd love to win is the Gold Cup and he seems to have a fancied runner every year, but it's so far eluded him and you have to go back to Roman Warrior in 1975 to find the last Scottish-trained winner. Another local trainer is Linda Perratt and she's always good for a handful of winners every season, as are Michael Dods and Tim Easterby with the latter's strike rate right up there with Fahey's.
Top Jockeys
It was places like Ayr that helped Paul Hanagan win the jockey's title for two years running, with his 14 winners in 2011 achieved at a strike rate of 23%. With him expected to ride more in the south in future, there should be more opportunities for the likes Phillip Makin, PJ McDonald, David Allan and Tony Hamilton, all of whom ride have enjoyed considerable success here. Local lad Daniel Tudhope was frequently on the scoresheet in 2011 with most of his winners coming for Jim Goldie, and backers of all his rides would have yielded a small level stakes profit.