By Bob Worth
Thursday 15, March 2018

Face the Race: Day Three Previews

Sponsored Article
As we continue our journey through the great Cheltenham Festival in 2018, there are seven great races lined up for us all to enjoy. To get a better understanding of these races, we have analysed them in short, hopefully to everyone's collective advantage.
13:30 – JLT Novices' Chase (Grade 1) – listed as Golden Miller
At 13:30 today the festivals third day commences. This is done with the JLT Novices Chase. This first race of the day has a standard distance of just over 2 miles and 3 furlongs. The limitation to this race is that the horses must be at least five years old to enter. This year the prediction is that the top favourite is Invitation Only. He has previously won the race 4 times, including the previous three editions!
14:10 – Pertemps Network Final Handicap Hurdle (Grade 3)
All the bookies are saying that the horse with the best chance of winning this hurdle race is Glenloe (Bet365 Odds: 9/2 - Timestamp: 1:40AM). Berry Geraghty's mount will have to prove itself worthy of the expectations in the second race of today!
14:50 – Ryanair Chase (Grade 1) – Listed as The Festival Trophy
After only waiting only forty minutes after the start of the previous race, this Ryanair Chase will commence! This race is slightly longer than two miles and will have a great winner's prize of £350,000! For this race, the horse with the best odds is Douvan (Bet365 Odds: 4/1 - Timestamp: 1:40AM).
15:30 – Sun Bets Stayers' Hurdle (Grade 1)
In the fourth race of the third day, seventeen horses will take part. In this longer hurdle race only horses over the age of four years can take part. Sam Spinner (Bet365 Odds: 10/3 - Timestamp: 1:40AM) has the highest expectations of winning! Jockey Joe Colliver and cancer survivor Jedd O'Keeffe will be looking to meet expectations and win.
16:10 – Brown Advisory & Merriebelle Stable Plate Handicap Chase (Grade 3)
Depending on the performance by the horses and their jockeys and their ability to jump will be the deciding factor in this race. Should the favourites rise to the challenge and win, it is expected that Last Goodbye (Bet365 Odds: 9/1 - Timestamp: 1:40AM), ridden by jockey S W Flanagan will take the £110,000 prize home!
16:50 – Trull House Stud Mares' Novices' Hurdle (Grade 2) – Listed as Dawn Run
In today's penultimate race, 15 horses will be vying to win the title and juicy winner's prize of £90,000! With just over two miles long, this race is rather short in comparison. The clear favourites for this race is listed as Laurina (Bet365 Odds: 8/13 - Timestamp: 1:40AM) who is the horse to beat for all the remaining competition.
17:30 – Fulke Walwyn Kim Muir Challenge Cup Amateur Riders' Handicap Chase
The final event of today is certainly an exciting one! With a distance of three miles and two furlongs, this is a relatively long race, designed for endurance and good stamina-management. Despite last year's debacle, Mall Dini (Bet365 Odds: 5/1 - Timestamp: 1:40AM) is the horse to beat in this race. Mall Dini – ridden by Mr PW Mullins – has odds of 5/1 to win this final race.
Terms & Condition apply - 18+ Only | Please refer to Bet365 Customer support services in case of doubts or questions
Course details
Cheltenham is the undoubted home of National Hunt (jumps) racing in Britain & Ireland and its showpiece event is the Cheltenham Festival, held over four days in March. Outside the Festival, 'The Showcase' meeting in October and 'The Open' meeting in November are not far behind the festival itself in terms of competitiveness and excitement.
There are actually three courses in one at Cheltenham: the Old Course, New Course and Cross-Country Course. The golden rule is concentrate on those horses with previous form at Cheltenham as not all horses take to the unique track.
Track overview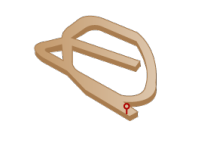 learn more about Cheltenham
By Bob Worth
Wednesday 13, March 2019
Cheltenham 2019: Live Streaming And Betting Odds
Cheltenham Racecourse at Prestbury Park in Gloucestershire is the home of National Hunt racing. It stages the Cheltenham Festival in March which features 28 championship races including the Gold Cup and the Champion Hurdle.
➤ Watch Cheltenham live with bet365 now!
<...
Read More
By Bob Worth
Tuesday 13, March 2018
Face the Race: Day 1 Previews
Sponsored Article
Cheltenham 2018 is under way and first up, as always, is the much anticipated Champion Day.
Champion Day marks the Champion Hurdle, which involves 6 different races. All of these take place on the same day: March 13th. These are the following:
The Supreme Novice's Hurdle Race
This Grade 1 race involves just over 2 miles of distance, and features horses just kicking off their careers in racing. It will take sta...
Read More