By Bob Worth
Tuesday 26, September 2017

Great Horse Racing Ahead

We got another great day of racing coming up today with Warwick, Lingfield Park, Beverley, Tipperary and Chelmsford all having a full schedule and more than opportunity to pick a winner.
At Warwich the absolute favourite to win is Premier Rose in the 2:55 meeting. The 8 year old Mare lead by Harry Skelton having been going strong and is predicted to lead from the start to the end.
Over all as we see it Harry Skelton is gonna have a fabulous day at Warwis as we also have him to win the 1:50 meeting with the 5 year old gelding Blairs Cove. It is the fourth time the horse is gonna run the 2 mile distance, but with two places he has shown than he has the stamina to do the distance.
Our third pick is also a Harry Skelton horse. In the 2:25 race he has a fair chance with Pretty Reckless. The horse has never gone the distance before, but the jockey knows it, and they usually do well together.
Course details
Visitors to Warwick get a real sense of history as the course is located close to the ramparts of Warwick Castle, which was built by William The Conqueror in 1068 and served as the symbol of power for the Earl of Warwick.
Track overview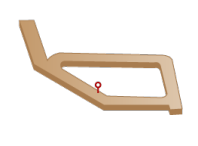 learn more about Warwick